You can now search for IKEA products using an image
How does it work?
Upload an image of a piece or combination of furniture
Your privacy is really important for us! Please, do not upload images with people.
View results of similar or different products
The products that will appear in the results list will be either similar or different.
Discover the same or similar products to what you are looking for
You can now find any IKEA product you are looking for easily and quickly using our image search function
Supports JPEG, PNG files up to 5MB
Ask a designer: living more sustainably on a budget
Ask a designer: living more sustainably on a budget
"I want to furnish my home sustainably, but I don't have much money. How do I do it?" There is this idea that living more sustainably is expensive, but it absolutely does not have to be. You can furnish your home to be a beautiful, warm and colourful place in a way that is good for the planet but good for your wallet too. We chatted to interior designer Chiara Effroi Lutteri about how she created a home that's just that: poppy, practical and filled with lower-impact choices – all on a shoestring budget.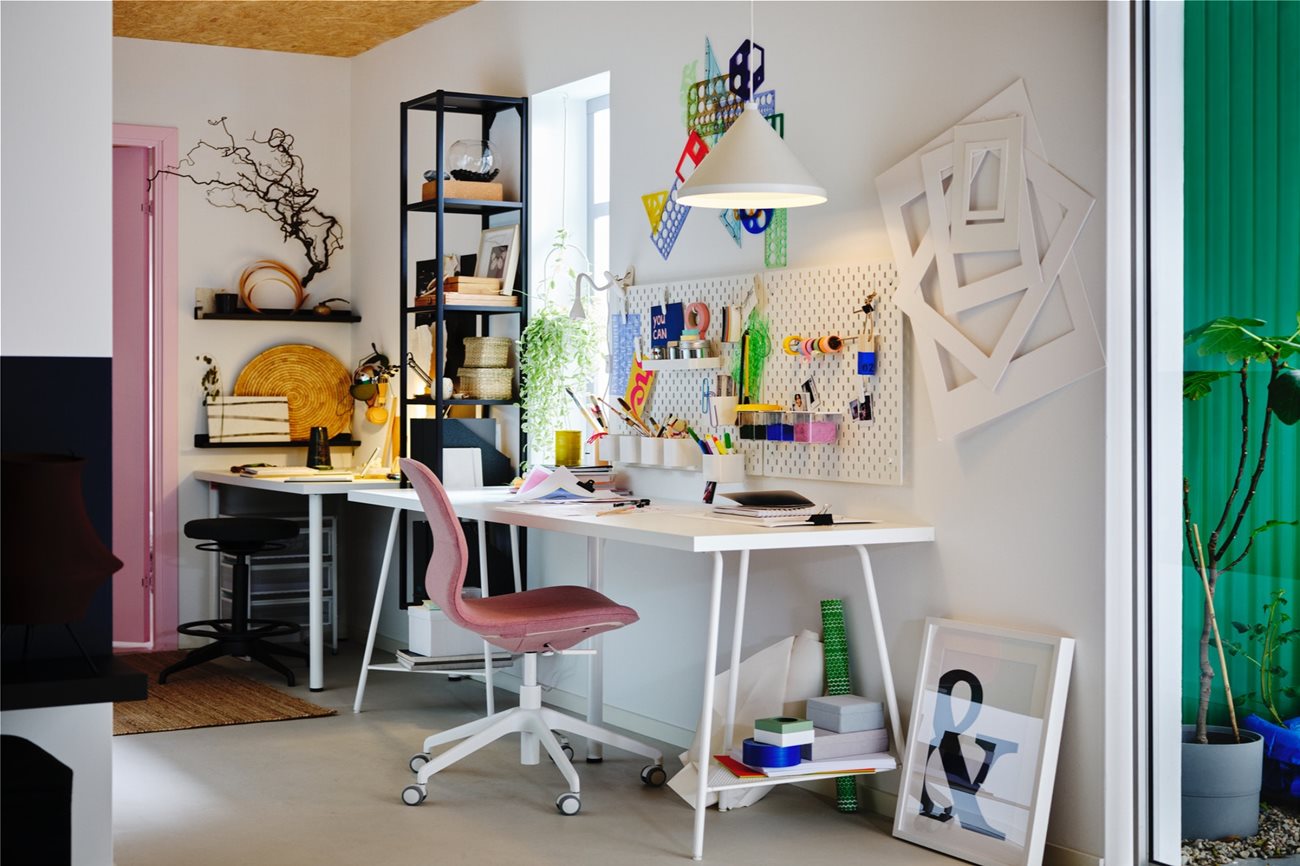 Hej Chiara! Can you tell us a little bit about the vision for this home?
Chiara: With pleasure! I designed this home for a pair of adult siblings, where the apartment originally belonged to the sister and then the brother moved in later. As it's a one-bedroom, we had to come up with creative solutions to make the space livable and we did it all on a tight budget. Just as importantly, we wanted to express that the choices we make at home can reduce our impact on the planet.
How did you manage to do all of that in one home?
Chiara: With this home, we thought about functions and furniture differently, seeing how we could find simple ways to add onto what was already there, rather than replacing it all with new things. So, for example, rather than buying a brand-new bed, they found another BLÅKULLEN upholstered bed in the As Is section at IKEA, which could also be used as a sofa if the sibling moves out. Instead of buying a bigger dining room table, they combined their two tables to make a longer, adjustable table. We also made an affordable room divider using 100% more sustainable cotton fabric, which can be opened as closed as needed.
You mentioned As Is. Can you tell us more about that?
Chiara: The most sustainable furniture to buy is the furniture that already exists, so buying secondhand is a great way to start making more sustainable choices. In my opinion, every trip to an IKEA should include a stop at the As Is section! Here you can find all kinds of products – end of range, returned items, or floor samples – for a fraction of the original price.
What advice do you have for first-time home furnishers?
Chiara: Choose furniture that can follow you throughout your different life stages. People often speak about "investment pieces", which brings up images of expensive items. In my mind, a great investment piece is something you will use for years to come, even with a lower price tag. The modular ENHET series is just that. If you need some extra shelves in the kitchen for example, they click right in. It's also easy to disassemble when life takes you on a new adventure. We used the ENHET kitchen and bathroom series and placed an ENHET open high frame with shelves in the workspace for just that reason.
We couldn't help but notice the embroidered furniture. What inspired that?
Chiara: I believe every piece of furniture deserves a second chance at life. You can donate your older pieces, or sell them online. Colour plays a big role in this home so we've livened up some more subdued pieces like the cabinets with bright geometric embroidery. You can also give untreated wood furniture a lick of paint in a new hue. Really, there are all kinds of ways to breathe life into old things.
Do you need some help?